DONATIONS FROM CANADA
Internet for Humanity is a Non-Profit Society incorporated in British Columbia, and registered with Canada Revenue Agency (CRA) Charities Directorate
(#80887 4549 RR0001). Canada-based donations can be made by online interac e-transfer or postal mail via cheque (both have 0% fee deducted), or by Credit
Card via PayPal (1.9% deducted), or CanadaHelps ** (4.0% deducted).
DONATE ONLINE VIA PAYPAL (1.9% FEE)
OR, DONATE ONLINE VIA CANADAHELPS ** (4.0% FEE)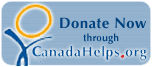 ** CanadaHelps is a separate CRA-registered Canadian Charity. Donations to CanadaHelps automatically receive CRA charitable-contribution tax-receipts (from CanadaHelps, not I4H).
DONATE BY INTERAC E-TRANSFER:
1. Please alert Robert Porter of your donation via e-mail to Robert.Porter@i4h.ca
2. Send 2nd e-mail with answer to security question
3. Go to your bank's online-banking website, and follow prompts to send "interac e-transfer" to Robert.Porter@i4h.ca
4. I will acknowledge your donation by return e-mail.
DONATE BY CHEQUE:
Please make cheque payable to: "Internet for Humanity", and mail to:
Internet for Humanity
Box 52020
Beacon Ave RPO
Sidney, BC, Canada V8L 5V9